Harry Potter and the Deathly Hallows: Part I
Alles over de film Harry Potter and the Deathly Hallows: Part I



avontuur, fantasy, mysterie
BioscoopAgenda van Harry Potter and the Deathly Hallows: Part I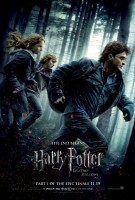 Harry Potter and the Deathly Hallows: Part I in de bioscoop
Cast & Regisseur van Harry Potter and...
Nieuws over Harry Potter and the D..
Fans van Bradley Cooper opgelet! ...doe mee!
BiosAgenda.nl op Facebook, Twitter en Google+
17-11
De verfilming van Stephen King's The Dark Tower is al jaren in productie maar nu lijkt er een beetje vaart in te zitten. Matthew McConaughey is gesprek om de ro van Walter Padick op zich te nemen.