Pitch van Metallica Through the Never
Metallica Through the Never 3D
Nederlandse première:
10-10-2013
Verenigde Staten, 2013, 94 min,
In deze concertfilm zien we de legendarische metalband Metallica spelen in stadia. Tegelijkertijd zien we roadie Trip, gespeeld door Dane DeHaan, die door de band op pad wordt gestuurd voor een speciale opdracht.
bijzonderheden over Metallica Through the Never
De roadie Trip wordt gespeeld door
Dane DeHaan
die we kennen van
Chronicle
. Metallica speelde ooit een verrassingsoptreden onder de naam DeHaan om deze film te promoten.
Ook te zien:
Aanloop van Metallica Through the Never
Het is niet de eerste keer dat we Metallica in een film zien. Eerder was de band het middelpunt van de onthullende documentaire
Metallica: Some Kind of Monster
.
BioscoopAgenda van Metallica Through the Never
Cast & Regisseur van Metallica Throug..
Dane DeHaan
Trip

Lars Ulrich
Zichzelf

James Hetfield
Zichzelf

Kirk Hammett
Zichzelf

Robert Trujillo
Zichzelf

Nimród Antal
Regisseur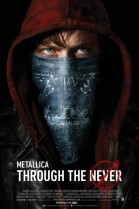 Nieuws over Metallica Through the ..
De aliens zijn terug! ...doe mee!
BiosAgenda.nl op Facebook, Twitter en Google+