actie, drama, oorlog, thriller
Pitch van The Hurt Locker
Nederlandse première:
11-2-2010
Verenigde Staten, 2008, 131 min, actie, drama, oorlog, thriller
Op waarheid gebaseerd verhaal over een explosieven opruimingsteam dat in een chaotisch Bagdad probeert om voor veiligheid te zorgen. Ze komen hierbij terecht in een gevaarlijk kat-en-muisspel, waarbij iedereen een potentiële vijand is en alles een bom kan zijn.
bijzonderheden over The Hurt Locker
De film is opgenomen in Amman, Jordanie.
Aanloop van The Hurt Locker
De regisseur Kathryn Bigelow, werd overgehaald om deze film te regisseren door haar ex-man James Cameron. "Mission Zero" (1997) was haar laatste film.
BioscoopAgenda van The Hurt Locker
Cast & Regisseur van The Hurt Locker
Ralph Fiennes
Contractor Team Leader

Guy Pearce
Sergeant Matt Thompson

Jeremy Renner
Staff Sergeant William James

David Morse
Colonel Reed

Anthony Mackie
Sergeant JT Sanborn

Evangeline Lilly
Connie James
Kathryn Bigelow
Regisseur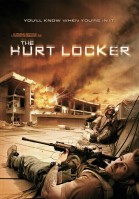 Nieuws over The Hurt Locker
Huidige prijsvraag
Win deze zwarte komedie! ...doe mee!
BiosAgenda.nl op Facebook, Twitter en Google+