Pitch van The Incredible Hulk
Nederlandse première:
19-6-2008
Verenigde Staten, 2008, 114 min,
Terwijl hij op de vlucht is voor het leger, zoekt dr. Bruce Tanner een geneesmiddel voor zijn verandering in de hulk te vinden. Net als hij dicht bij een oplossing is, duikt het monster 'The Abomination' op.
bijzonderheden over The Incredible Hulk
Aanloop van The Incredible Hulk
BioscoopAgenda van The Incredible Hulk
The Incredible Hulk in de bioscoop
De bioscoop programma's in Nederland lopen van donderdag tot en met woensdag. De programma's van de nieuwe speelweek worden uiterlijk dinsdag bekend gemaakt.
Cast & Regisseur van The Incredible H..

Tim Roth
Emil Blonsky

Edward Norton
Bruce Banner

William Hurt
Gen. Thaddeus 'Thunderbolt' Ross
Liv Tyler
Betty Ross

Michael K. Williams
Harlem Bystander (as Michael Kenneth Williams)

Louis Leterrier
Regisseur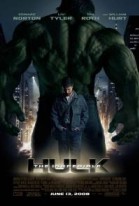 BiosAgenda.nl op Facebook, Twitter en Google+