Pitch van The Day After Tomorrow
The Day After Tomorrow filmstill
Nederlandse première:
27-5-2004
Verenigde Staten, 2004, 124 min,
Klimatoloog Adrian Hall werkt in New York wanneer de stad door een enorme ecologische ramp in een ijsvlakte verandert. Adrian slaat op de vlucht naar het Noorden, in de hoop te kunnen overleven en zijn zoon te vinden.
Aanloop van The Day After Tomorrow
BioscoopAgenda van The Day After Tomorrow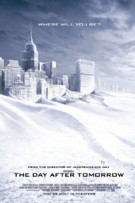 The Day After Tomorrow in de bioscoop
Cast & Regisseur van The Day After To..

Jake Gyllenhaal
Sam Hall

Dennis Quaid
Jack Hall

Emmy Rossum
Laura Chapman

Sela Ward
Dr. Lucy Hall

Tim Bagley
Tommy

Roland Emmerich
Regisseur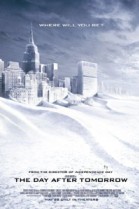 Nieuws over The Day After Tomorrow
BiosAgenda.nl op Facebook, Twitter en Google+
17-5
Het vervolg op Trainspotting heeft een nieuwe naam en heet nu simpelweg T2. Ook is bekend geworden dat de film in januari 2017 uit zal komen. De originele cast keert terug en Danny Boyle zal weer regisseren.