compleet & ongebonden sinds 1995
Christopher Walken
Christopher Walken: films, nieuws
Biografie van Christopher Walken
Christopher Walken
s moeder had altijd al de droom dat een van haar zoons het tot ster zou schoppen. Dit stimuleerde Walken om dans- en toneellessen te nemen en om audities te doen. Aanvankelijk leidde dit tot enkele kleine rollen in televisieseries.
Zijn doorbraak kwam in 1969 toen hij een rol kreeg in de film "Me and My Brother". Kort daarna verscheen hij in "The Anderson Tapes" (1971) naast
Sean Connery
. In 1977 werd hij gevraagd voor de film
Annie Hall
geregiseerd door
Woody Allen
en speelde hij de suicidale broer van Annie Hall.
The Deer Hunter
uit 1978 vormt een van de hoogtepunten uit de carrière van Walken. Hij speelde hierin naast onder meer
Robert De Niro
en werd beloond met een Oscar.
In de jaren tachtig en negentig speelde
Christopher Walken
nog in diverse legendarische films als
A View to a Kill
(1985) en
Pulp Fiction
(1994). Meer recentelijk speelde hij in de blockbusters
Catch Me If You Can
(2002) en
Click
(2006).
Trivia over Christopher Walken
Aanvankelijk dacht Walken een danser te worden, maar stapte later over op acteren.
Christopher Walken In het nieuws
Christopher Walken Feiten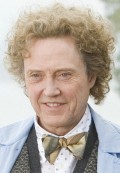 © (c) 2006 Sony Pictures Releasing
acteur, stemacteur
Geboren 31-3-1943
BiosAgenda.nl op Facebook, Twitter en Google+